Leicester Factory given Grade II Listing
The former Gutteridge factory at 11-13 Wellington Street has been given Grade II listing status by Historic England
The former Gutteridge factory at 11-13 Wellington Street has recently been added to the register of buildings of architectural and historic interest. Built as a shoe factory 150 years ago, it is described by Historic England as an architecturally distinguished example of the Italian palazzo style factory, characterised by a different architectural treatment on each floor in which a variety of materials and motifs are used to create a finely detailed polychromatic façade. Additionally, it has a well-preserved, legible plan form consisting of the impressive frontage with parallel ranges around an open courtyard at the rear, windowed on all elevations to allow in as much natural light as possible, consistent with the nature of the work carried out.

Originally built for John W Rowles, a shoe manufacturer who bought the land in 1866, it was later occupied by two separate boot and shoe manufacturers, GP Simons and John Rawson. Latterly, after a short period of use as a warehouse by the Leicester Mercury, the building was occupied by WN Gutteridge, a haberdashery company specialising in producing buttons, who bought it in 1964. Earlier this year Gutteridges transferred their production to a site outside the city, and vacated the Wellington Street building.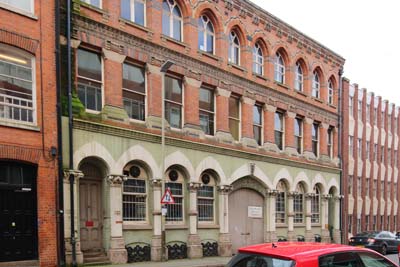 In giving the building Grade II listed status, Historic England stressed the ornate nature of the three-storey symmetrical façade of ten bays in the Ruskinian Italian Gothic style, which became popular around this time for warehouses and light industrial buildings. The arched openings on the ground floor are divided by attached columns on square stone plinths, with highly ornate foliate capitals, although the delicate detail of these has been obscured by layers of paint. The upper floors are characterised by the imaginative combination of brick and terracotta to create a rich impression from fairly simple elements.